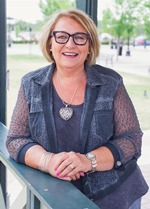 403-281-0140


Click on book to purchase
Follow this link to see Andrea's CTV interview on the day the Costa Concordia was raised.
Travels from Calgary, AB
Andrea Davis
Author, Speaker, Survivor, captivating and inspirational!
Speaker: Andrea keeps her audience gripping onto the edge of their seats as together they sail away on this incredible journey. Helping individuals turn tragedy into triumph so that they can move forward and recognize new beginnings.
On Friday January 13th 2012, the cruise ship, Costa Concordia, ran aground spilling 3200 passengers and 1,000 crew members into the dark water of the Mediterranean. Thirty two people died and many more suffered physical and emotional scars that are still healing. Andrea and Laurence Davis were unable to find space in a life boat and leading the way, followed by others, had to swim for their lives as the 2000 foot-long ship was rolling over on top of them.
Filled with raw emotion, the chaotic events of that night are told through Andrea's eyes from the over-turning dining room, to the open deck rife with panic and confusion, the decision to jump into the black waters and swim to a rocky shore, and the painful hike over coral rocks to safety. We witness the warm hospitality of the local Islanders who rescued, fed and clothed the survivors and the waiting world who prayed for news of their safety. The incredible decision to return to the scene of the disaster only six months later and thank the people of Giglio, despite the challenges of language and customs, attest to the open-hearted courage of the Davis couple.
"What a gripping read. Once I started Andrea's book, I could not put it down. The story of Andrea and her husband's ordeal is harrowing, as she takes you from the sinking ship to their terrifying swim to safety. As terrible as the events were, I admire Andrea for seeing the good in the situation–the kindness of the people of Giglio, the decency of individuals who helped get them home.
Thank you Andrea, for this book." - Janet Dirks, CTV National News
Author: Survival Was Only The Beginning – A Costa Concordia Story

ANDREA DAVIS was born in Johannesburg, South Africa. She now lives with her husband, Laurence and family in Calgary, Canada, near the foothills of the magnificent Rocky Mountains. The incredible journey that Andrea documents in this book highlights their survival of the largest disaster at sea since the sinking of the Titanic, and the months following. Andrea has opened her heart to share her vivid and dramatic memories with her readers, demonstrating the love, courage and determination that she and Laurence share.
---
Contact Andrea Davis:
Andrea Davis:
speakerandreadavis@ballyhooconcepts.com
403-281-0140
Find Andrea Davis:
www.andreadaviscostaconcordia.com
Find Andrea on Facebook
Find Andrea on LinkedIn
Follow Andrea on Twitter