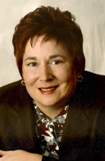 780-431-1284
View more details about Barbara
Travels from Edmonton, AB
Barb Semeniuk
Author, Speaker, Industry Safety Guru
Safety Guru, because the 20 years of Industrial Health and Safety advice that Barbara offers saves lives… and forces your company to take a look at what might get in the way of keeping your employees safe and happier on the job.
Speaker, because she reflects the dynamic professionalism of the Canadian Association of Professional Speakers (CAPS)… Barbara facilitates inspiring Industrial Health and Safety programs. She conducted over 500 audits of companies both large and small in the Construction, Food Processing, Oilfield, Trucking, Retail, Security, and Manufacturing industries. She taught auditing skills at Red Deer College, for the Food Processor's Association, the Manufacturers' Health and Safety Association and the Alberta Construction Health and Safety Association (ACSA). Barbara also pioneered the creation of ACSA's auditor training course and the peer auditing system.
Any company in the Construction, Food Processing, Oilfield, Trucking, Retail, Security and Manufacturing industry who were wise enough to hire Barbara see transformations in their offices, construction sites and experience greater satisfaction in the quality of health and safety in general.
As an Author, Barbara Semeniuk specializes in industrial and high-tech safety and loss management articles about how to improve the safety policies and safety management systems in your company. Two decades of invaluable Industry Safety education is at your fingertips. Be the one to take action in your company with one of the industry best in your quest for safety issue solutions.
To receive details on how you can prepare your company to pass audits and safety inspections, contact Barbara Semeniuk.
---
Contact Barb Semeniuk:
Barbara Semeniuk:
bls1284@telus.net
Cell: 780-951-0867
Find Barb Semeniuk: