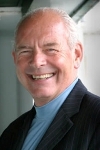 Co-founder and Past Director CAPS Vancouver
Past CAPS National Director
Amazing friend and mentor to so many of us. We still miss you Bill.
Bill Clennan, HoF (Jan. 16, 1944 - July 10, 2010)
Individual Development Organization
Since 1969 more than 10,000 audiences have been captivated by the high energy, brilliant insights,and contagious humor of the man who has become known as THE DEAN OF SPEAKERS, Hall of Fame inductee Bill Clennan. He will be missed by his colleagues and his clients alike.
Bill Clennan was a past CAPS National Board Director. Bill was instrumental as a co-founder CAPS Vancovuer, as well serving on the Vancouver board for several years.
Your attendees will boost the performance of THE MOST IMMEDIATE of all business, social, and intellectual skills,their ability to remember names, faces, and facts. The brain's ability to remember information is what makes us who we are. Sadly, his services will no longer be available.
We will miss your warmth, your smile, and your encouragement... we will remember The Memory Man, Bill Clennan for sure...
---