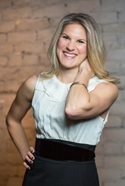 416 727.0550
"Carol has the unique ability to capture her audience seen only in the most excellent storytellers. She was truly born to be a speaker and motivator. I can't recommend her highly enough."

Nikki Bergen Owner, The Belle Method
Carol Schulte
Speaker, Author, Coach, Founder of 'Women Living BIG!'
Are you ready to think BIGGER, live BIGGER, and be inspired into action?
Imagine what your company would look like if all your employees were highly motivated, fully engaged, and completely in alignment with your organization's mission, vision, and values.
Your people are your most valuable asset. Don't they deserve as much care and attention (if not more!) as your customers?
When all members on the team are both happy and fulfilled, engagement expands, productivity skyrockets, and buy-in builds. Moreover, you become the go-to employer of choice. Everybody wins!
Carol loves working with individuals and organizations that are ready and willing to think bigger. Organizations that put their people equal to their profitability. Organizations that truly care about their employees and customers as much as their stakeholders.
Meet Carol Schulte
Highly sought after speaker, facilitator, and executive coach, Carol has worked with audiences in the US, the UK, Germany, and Canada for the better part of a decade. Her highly dynamic, interactive, and authentic approach keeps her audiences engaged and entertained, creating a learning experience that inspires action and impacts lasting change.
As the creator of Spark your GENIUS and Women Living BIG, she is on a mission to empower you to live BIG (how many folks can say they've lived in an Ashram, shaved their head - and raised $10,000 to boot - or bungee jumped in their birthday suit?!?) no matter what life throws at you. She holds a BFA in Theatre Performance, an MA in Communication, and two postgraduate certificates in coaching and mentoring.
Carol has worked, volunteered, and travelled in over 30 countries (and counting!) bringing a unique and global perspective to her audiences. She is the contributor of two published books, 'One Red Lipstick' and 'Life Messages – Enterprising Hearts. When she's not on stage or running events like axe throwing or skydiving, she'll likely be found volunteering, training for a marathon, or discovering her next fave local coffee shop.
Most Requested Presentations Include:
Work Big, Play Big, Live BIGGER: Simple Strategies to get you thinking outside of the box, out of your comfort zone, and more engaged in your work and life.
Lean in, Leap Out: Learn what it takes to be a strong leader that stands out and creates meaningful impact.
Spark your G.E.N.I.U.S.: Identify your passions, unlock your potential, discover greater purpose.
Communicate Your Way to the Top: Effective Communication Skills to help you stand out as the leader you are.
But First, Let me Take a Selfie: Perception, both on and offline, is reality. Understand the good, the bad, and the ugly when it comes to your on-line presence.

---