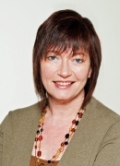 780.460.8162
Past President of the Edmonton Association of Professional Coaches.
2016 Director CAPS Edmonton
Download Laurel's Speaker one sheet (pdf)
Download Laurel's Lunch & Learn's (pdf)
Travels from Edmonton, AB
Laurel Vespi, ICF, ACC, ORSC, M. Ed.
Known for her bold, humorous and creative style, Laurel Vespi inspires people to make something different happen in their lives or businesses. Not just talk about it, but really create change. Laurel is a certified life coach, credentialed by the International Coach Federation, and the creative energy behind stone circle coaching. With more than 30 years experience as an educator, consultant and group facilitator, Laurel particularly loves helping people find more balance, meaning, fun and satisfaction in their lives.

Laurel is a professional member of the Canadian Association of Professional Speakers. Her keynotes and workshops combine thought-provoking content, down to earth anecdotes and practical strategies leaving participants feeling uplifted and inspired.
Laurel is the author of the award winning book Spontaneous Combustion: Setting Your Life on Fire, a kick in the pants look at how to stop procrastinating about the most important things in life. She also co-authored Create a Ripple: Making a World of Difference, a book designed to empower people to create the kind of impact they desire.
Laurel has been featured on several television and radio programs including Global, City TV, CTV, Alberta Prime Time, CBC Radio, EZ Rock, CHED and a variety of print media including newspapers, Readers Digest and Homemakers Magazine
Laurel has a Master of Education degree and is a Certified Professional Coactive Coach who has also completed advanced training in Organization & Relationship Systems Coaching. Laurel is the Past President of the Edmonton Coaches Association.
Laurel's areas of expertise include:
• whole life balance
• life passion & purpose
• communication
• personal leadership
• team development

Laurel's Most Popular Keynotes & Breakout Sessions:
•What Are You Waiting For? How to Stop Procrastinating & Start Living
• When the Chickens Come Home to Roost: A Common Sense Approach to Personal & Professional Success
• The Power of One: Making a Difference
• Loving the Chaos: A Whole New Approach to Life Balance
• I'm a Work in Progress: Embracing Your Authentic Self
• Ignite the Leader Within
"Laurel is a very energetic and true motivational speaker! She tailored her presentations to compliment our theme. Laurel was very much enjoyed by our delegates as our keynote speaker and as she spent the day mingling with us. It is obvious that Laurel genuinely believes in what she says. She challenged us to take charge of our lives and be a part of 'change.'" Yvonne Verklan
Chair, 2010 CSGNA Conference
---