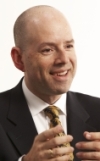 416-256-7773 x101
Past President CAPS Toronto
2012-2016 Director CAPS National
Randall's books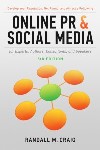 Randall M. Craig, CFA, MBA, CMC, CSP
Social Networking and Digital Strategy Expert
Author of seven books, including the Online PR and Social Media series, Social Media for Business: 101 ways to grow your business, and The Everything Guide to Growing your Business, Randall Craig helps organizations and individuals rethink their approach to marketing and engagement using digital strategy. He helps move the digital strategy airplane from 30,000 feet to landing. Randall shares practical, been-there-before advice from his 22 years of Web and Social Media experience as a Consultant, Senior Executive, Entrepreneur, Best-selling Author (and Black Belt in Karate).

"Randall is a perceptive, highly innovative thinker with an acute awareness of the fundamental principles of business and a sincere curiosity in the promise of technology and how it can improve the human condition" (PF, President, Public company)

"I learned more from your one hour presentation than I did anywhere else" (CR, Chartered Accountant)

Each of his presentations is up-to-date, customized, and relevant. He does this for 12-person teams, 600-person webcasts, and at conferences with over 1500 people in the audience. While his presentations are designed to motivate, each attendee leaves with the ability - and tools - to translate key concepts into actionable next steps.
Not sure if you have the right speaker? Read Seven key questions for hiring a Social Media Speaker.

Randall's topics:
Social Media Without Wasting your Time or Losing your Identity: Strategies to grow your organization - and avoid the risks. (Relationship curve, integrating Social Media with traditional marketing, Risk and Policy, Measurement, Productivity)
Social Media for Leaders: How to build personal profile, and then translate this to business growth online. (Profile Building, Business development, Prospect due diligence.)
Social Media for Associations and Not-for-profits: Harnessing the power of Social Media to improve member engagement, development and marketing. (Stakeholder engagement, fundraising, advocacy, Online PR, Risks/policy, Governance, event marketing)
Social Media for Professional Service firms: Strategies and policies to implement a successful social media initiative - at the firm and individual levels. (Profile Building, Business development, Prospect due diligence, Risk, integration with Web/Marketing automation/CRM)
Inbound Marketing and Content Strategy: How to use content efficiently to build trust, affinity, engagement, and ultimately your organization.
Social Media Futures and Trends: Examines where Social Media is heading; focuses on implications, opportunities, and risks.
Networking for Success: Practical skills that can be put to use immediately; (Different versions for conference attendees, business development, teamwork, job search etc)
"THE most useful seminar I have taken at conventions" (SL, Entrepreneur)

"Randall is professional in every sense of the word. He researches his material, presents with authority and style and follows up with participants diligently." (JP, Executive Director)

"Randall is an idea guy -- and I highly recommend him" (SS, VP Marketing, public company)

Randall Craig is one of 62 Certified Speaking Professionals (CSPs) in Canada and is in the exclusive 12% of speakers who have been awarded this designation internationally. He has been profiled in all national media, blogs for the Huffington Post, and hosts the business affairs show Professionally Speaking TV (www.ProfessionallySpeakingTV.com). Randall is the president of digital strategy firm 108 ideaspace, and lectures at the Schulich School of Business Executive Education Centre.
---