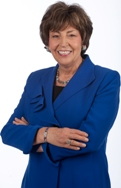 1-877-653-0077
"Rosalie ignites the room with her passion for Nutrition and Mental Health. She combines her knowledge and expertise with personal and professional anecdotes, creating a captivating presentation."
Susan Baker, B.Sc., RHN, Coordinator, Nutritionists' Networking Group

"Thanks for the most informative sessions about stress relief. We enjoyed your enthusiasm, energy and creativity along with the strategies given." Donna Carmichael, Administrator, Sunnybrook & Women's College Health Sciences Centre
"Rosalie's a goldmine of data on nutrition, vitamins, allergies, and is an absolute delight to work with." Vera N. Held, Business Author/Columnist

Rosalie Moscoe, RHN, RNCP
Singer, Juno nominated recording artist, performer, humorist, Rosalie Moscoe brings life and fun to her presentations. Passionate about stress-relief, holistic nutrition and well-being, she brings elements of her former career as a singer/performer to the speaking platform. With her entertaining approach, she still avidly promotes stress-relief and boosted nutrition for optimum well-being. She is passionate about delivering professional growth experiences that unlock the dynamic potential of each individual. Though her keynote addresses or seminars, Moscoe creates an inspirational and exhilarating learning atmosphere, helping people adapt to the changing world and at the same time, touches their hearts. (Over 800 talks given since 1995.)
Moscoe is a Health and Wellness Professional, with experience as an instructor teaching "A Wellness Approach to Stress Management" at Centennial College in 1999. Her quest as a lifelong learner led her to become a Registered Nutritional Consultant Practitioner. In our busy, overcommitted world, she brings the experience of a teacher on stress-relief and a holistic nutritionist to her unique presentations - helping people take charge of their often run-away lives. She lets people know the value of taking care of themselves through a healthier life balance and increased nutrition to boost immunity and mental health. Her most popular topic: "From Frazzled to Fantastic! Stress-Relief to Combat Burnout", gives people valuable knowledge, tools and tips to ease burdens in their lives. Also, in her one-of-a-kind nutrition presentation, "Power Foods Create Better Moods" and her extensive experience working one-to-one as a nutritional consultant for patients of a psychiatrist, Moscoe uncovers the connection between food and mood.
She is author of Amazon.com's best-selling print and eBook, "Frazzled Hurried Woman! Your Stress Relief Guide to Thriving...Not Merely Surviving". She has been published and featured across various media such as the National Post, for her work on the frazzled lifestyle, the Toronto Sun, Vitality Magazine, Tonic Magazine, Canadian Living Magazine, Singapore Times, All About Women, CTV, and Canada AM.
Moscoe is a Professional member of CAPS (Canadian Association of Professional Speakers) and NSA, (National Speakers Association) in the U.S. Rosalie is certified by Health Canada in Workplace Health System, Level One. Also, she holds level one in Fitness Ontario Leadership Program. A cause dear to her heart, Moscoe serves as Vice Chair of the International Schizophrenia Foundation (ISF), www.orthomed.org, which promotes orthomolecular (therapeutic nutritional) treatments of all mental illness. The ISF has appointed her Chair of the "Mindful" Campaign - a better future for children's mental health, www.mindfulcharity.ca .
Moscoe's knowledge, caring and experience make her the perfect mentor for those seeking journeys back to harmonious living.
Partial Client List:
| | | | |
| --- | --- | --- | --- |
| John Deer Credit | Ontario Power Generation | Science Centre | Elementary Teachers Federation of Ontario |
| Loblaw Companies Ltd. | Canadian Mental Health Association | York University | Ontario Association of School Business Officials |
| Caterpillar Financial Services | Operating Room Nurses' Association of Toronto | Rouge Valley Health Systems | Ministry of the Attorney General |
| Motorola Canada | Sunnybrook & Women's College Health | University of Toronto | Canada School of Public Service |
---